PROJECT
Adaptive Social Protection
Trickle Up supports the World Bank's Sahel Adaptive Social Protection Program (SASPP) in Burkina Faso, Niger, Chad, Mauritania, and Senegal with design, delivery, and research. The project aims to sustainably reduce extreme poverty through the cost-effective integration and adaptation of the Graduation Approach into large-scale social protection programs in the Sahel.
The SASPP combines regular cash transfers with a number of components aimed at building the productive capacity of women through the Graduation Approach, which includes savings groups, livelihood planning and regular coaching. Delivering and financing individualized coaching at scale is a challenge, particularly in the context of dispersed populations and limited human resources. Trickle Up supports research through implementation to help address this challenge.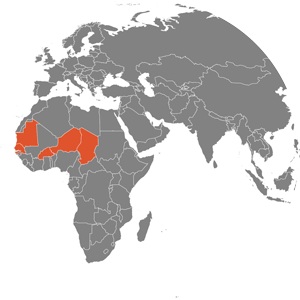 Trickle Up's provides the SASPP design support and the development of coaching and savings group training modules and the direct training of government and NGO implementers. We also designed and are managing a qualitative and process evaluation to inform the design of future programs and help contextualize the impact evaluation's results.
of participants met minimum savings targets of about US $6.70 per month after 6 months in Burkina Faso
participants practicing income generating activities after 6 months of coaching in Burkina Faso, up from 33%
Trickle Up's SASPP project team is located in Ouagadougou, Burkina Faso.
The SASPP is funded by a multi-donor trust fund and managed by the World Bank. Innovations for Poverty Action (IPA) managed the randomized controlled trial for the SASPP regionally. Partners include national governments and local NGOs.