PROJECT
Empowering Women & Youth through Graduation & Financial Inclusion
Trickle Up's Empowering Women and Youth through Graduation and Financial Inclusion project, funded by MetLife Foundation, delivers a holistic package of Graduation interventions with financial inclusion components to economically empower vulnerable and marginalized women and youth in Bangladesh, Mexico, and Vietnam.
Mexico, Bangladesh, & Vietnam
Trickle Up is building a cross-country learning platform across three countries on two continents to share lessons and make the case for the integration of the Graduation Approach into social protection systems and broad replication within large NGOs.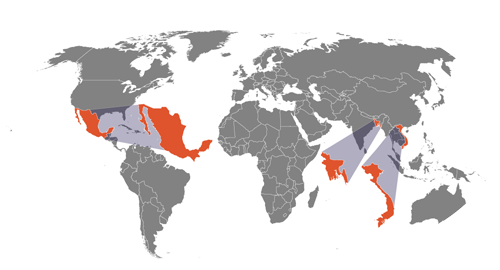 Between 2017 and 2021, Trickle Up and its partners will directly benefit 23,000 women and youth between the ages of 18 and 34 years old, impacting 115,000 people living in extreme poverty.
Participants in Bangladesh
participants have active mobile bank accounts in Bangladesh
savings groups formed in Bangladesh, Mexico, & Vietnam
participants increased their annual income during the project
The Empowering Women and Youth Through Graduation and Financial Inclusion project team includes members from Trickle Up's Americas and Asia offices as well as our New York headquarters.
With a focus on gender, youth, indigenous peoples, and climate change, this project is increasing Trickle Up's and partners' understanding of vulnerability and the multidimensionality of poverty and how best to reach those who are most vulnerable and marginalized.
With her seed capital, Wilma Teresa Chi Santiago from Yucatan, Mexico, started beekeeping and making honey to sell in nearby communities. She continues to grow with plans to expand from her original seven bee colonies. "This is such a big opportunity. I will not waste it."