The full magnitude of the health, economic, and social fallout of the Covid-19 pandemic is still uncertain, but it is clear that it will be catastrophic for hundreds of millions of the poorest and most vulnerable families who are always one setback away from falling deeper into poverty. The pandemic not only threatens their health and well-being, but also the access to markets, financial resources, and community participation needed to sustain a livelihood and support themselves and their families.
At Trickle Up, we are committed to providing opportunities for the most vulnerable people living in extreme poverty, particularly women and girls, indigenous peoples, and people with disabilities. Our approach opens pathways out of poverty through financial support, coaching, and inclusion in social protection programs and markets. In response to the Covid-19 pandemic sweeping the globe, Vice President for Programs Barbara Jackson and Director of Program Quality Leah Berkowitz discussed Trickle Up's response to the crisis, how our participants are affected, and the many challenges we face in responding to program participant needs in our live online Town Hall series.
How is Covid-19 affecting the lives of already vulnerable people?
In normal times, people living in poverty often have to deal with the results of malnutrition, poor water and sanitation systems, lack of access to reliable medical care, and exclusion. As fragile economies suffer, so do the most marginalized and vulnerable people.
"The implications for people living in poverty are extremely grave," said Barbara Jackson, Trickle Up's Vice President for Programs. "They are marginalized from social services, have not had access to understanding what services there might be, or being able to be included in those services. And that includes just general communications, awareness, and prevention of Covid and its implications."
Women, as is commonly the case, bare the heaviest burden. They have increased caregiving roles, both for children and for those who may be ill. The need to figure out how to feed their families even though the typical income flows, such as remittances from husbands who have migrated for work, have stopped. In many cases, those husbands have returned home during lockdown, adding to the household's financial needs.
"When people become sick, women are the caretakers," said Jackson. "Therefore, they are not involved in productive activities. It becomes an un-virtuous cycle."
That cycle is also reinforced by abrupt changes to other institutions that lead to new and unexpected expenses for women and families. School closures, for instance have increased not just the caregiving role for women, but also potentially added new economic pressures.
"If schools reopen, people may not be able to afford the cost of sending their child to school," said Leah Berkowitz, Trickle Up's Director for Program Quality. "Not just if there are specific school fees, but school uniforms, school supplies, transport to and from school. These are all costs to households that they may not be able to afford. As people get more and more desperate, they may need to have their children support their livelihood activities."
Covid-19 has also led to a reprioritization of healthcare services.
"A lot of energy and effort is being put into directing health services to respond to Covid-19, which I certainly don't begrudge," said Berkowitz. "But it also means that maternal and child health and sexual and reproductive health services may be suspended or decreased, which jeopardizes the health and well-being of families now and in the future. There are a lot of knock-on effects that really are pushing people into much more desperate situations."
"We also need to remember that Covid is not the only challenge that this world is facing," said Berkowitz.
Climate change has led to more insecurity in Mexico, Bangladesh, India, and Guatemala as extreme weather has led to flooding and droughts, affecting crops and access to markets. Cyclone Amphan slammed the Indian states of West Bengal and Odisha in May, both areas with Trickle Up participants, wiping away homes and livelihoods. Violence in West Africa has displaced 800,000 people in Burkina Faso.
As these threats pile on top of one another, resources become scarcer and the pathways out of poverty become fewer.
What can we learn from past and present crises?
Covid-19 is unprecedented in its global reach. However, it is hardly the first crisis to threaten the most marginalized and vulnerable. As governments and NGOs plan long-term responses to the current pandemic, it is important to consider the lessons from previous experiences such as the HIV/AIDs crisis.
"The whole experience of Covid-19 really reminds me of the early days of the HIV/AIDS epidemic in South and southern Africa," said Berkowitz. "People who are living with HIV and AIDS were highly stigmatized. All of the economic players were immediately affected. Women having to engage with much heavier caregiving burdens than they had in the past meant that they were less able to farm. Where science-based treatment and prevention were available, there was a lot of disinformation and confusion."
"In terms of HIV/AIDS, when you look at comparison with the long-term impact, it's pretty striking to consider how this has affected the whole swaths of communities and in very indiscriminate ways," said Jackson. "I would say that with Covid, we are seeing the gradients with regard to how it is affecting more gravely those most marginalized in terms of not being able to access health services with regard to who is able to gain a test and who is not. And who is able to even get on a ventilator in a hospital clinic where there might possibly be one."
Those who fall ill often face social and economic stigmatization, a prominent obstacle in the HIV/AIDs crisis, but also a challenge with outbreaks such as Ebola and cholera. Covid is no exception. As cities went into lockdown, migrant workers who lost their jobs began returning home, some walking and hitching rides hundreds of kilometers.
However, they were not all welcomed back due to the stigmatization of disease.
"They are seen, at times, as being the people who are bringing back Covid to those communities," said Jackson. "There are issues around stigmatization and concerns that those are the people that will be imposing even more stress on already stressed communities."
"HIV changed the composition and the social standing of households," said Berkowitz. "I think we're seeing this with Covid-19 as well, where migrants in India, in Guatemala, even sometimes health workers, are being stigmatized as people who are bringing the virus into communities."
Working with communities to eliminate and dispel myths around disease is a significant challenge, but one that must be overcome in order to provided needed support and to forge and strengthen community spirit and unity.
There have been some bright spots in government Covid response. "It has been heartening to see how government systems in Guatemala have been trying to prevent transmission very quickly and to get information and education out as quickly as possible," said Jackson.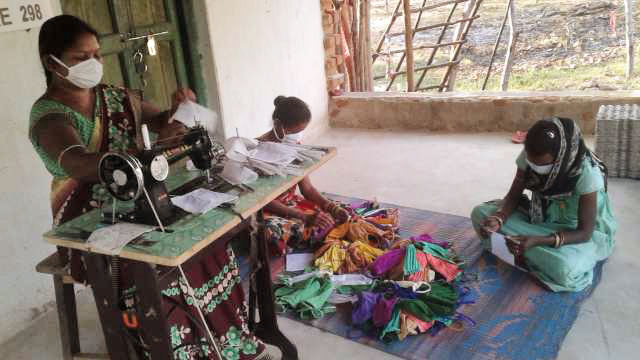 How can we learn and adapt in multiple dimensions at once?
A lesson from the HIV/AIDs crisis is that it is essential to understand the multi-dimensional impacts of a disease on poor households in order to adapt programs.
"We needed to think about how poverty was changing, the changing dynamics within households and what we could and should do to support them," said Berkowitz. "And importantly, we needed to recognize the limits of our knowledge and our programs."
Trickle Up is now surveying communities and households to better understand the myriad implications of Covid-19 on people's lives, families, and livelihoods. These assessments will inform our programs by uncovering both the strengths and limitations of our approach in mitigating the impact of a health crisis.
Throughout our history, Trickle Up has gone further to cultivate one-on-one relationships with poor and vulnerable people facing various social barriers. The Graduation Approach relies heavily on in-person training and coaching for participants, as well as savings groups that bring participants together to save and support one another. This more intimate approach has proven crucial for building trust, agency, and capacity over time.
"What Covid has done in the restrictions around movement has pulled that out from under people, that kind of support," said Berkowitz. "I don't think that there is a savings group that we have supported that has been meeting as normal."
How savings groups are responding has varied in different regions or villages. In Burkina Faso, groups continued to meet, adhering to social distancing and wearing masks. Government officials met with some groups to present basic preventive techniques. In Uganda, groups have been able to meet, but in reduced numbers. In the Americas, groups initially stopped meeting during lockdown, but some have begun to reconvene in modified terms as restrictions are loosened.
One inspiring example comes from India, where participants of Trickle Up's MPOWERED project have been active in supporting prevention awareness and promoting hygienic habits and social distancing. Government officials have recognized them as community leaders in the fight against the pandemic.
The MPOWERED project put smartphones in the hands of women living in extreme poverty, providing them with instant access to information about government programs and market prices, along with training materials and other resources on demand. Digital communication has clear advantages during Covid and Trickle Up is assessing the viability of expanding digital communications to supplement in-person coaching.
"We have an opportunity to really make better and wider use of some digital technologies that we have been experimenting with and using on a relatively modest scale," said Berkowitz. "But at the same time, I think we need to be able to work really differently with people to get them more comfortable in receiving support via remote means."
Are we really building resilience?
The lockdown has severely hampered livelihoods around the world. For those living in extreme poverty, the breakdown of market linkages can be devastating. Farmers in Burkina Faso or someone collecting mangoes in India can no longer access the markets in towns and cities to sell their produce. In Mexico, many Trickle Up participants produce goods that they sell to tourists, but both international and local tourism has stopped. "Their production of beautiful clothing, of lovely blouses and belts and tourist items no longer has a market," said Jackson.
These extreme disruptions jeopardize the gains that participants have made. "I would say we probably have not seen the magnitude of the implications of this global economic crisis yet in those communities," said Jackson. "It is long reaching."
However, there are signs of inspiration and hope.
"We're beginning to hear from participants who have changed their livelihood activities to respond to new demands," said Berkowitz. "Women in Guatemala who had been weaving scarves are starting to make face masks for their communities and for sale. So they are using those same skills. This has happened in India as well. Instead of selling fresh mangoes, attention is turned to how to preserve mangoes to store and to sell later when the markets open."
Building resilience to economic shocks is at the core of Trickle Up's mission. Trickle Up encourages participants to diversify their livelihood activities in order to broaden their economic pathways.
"This is part of the broader lesson around entrepreneurship and being able to identify gaps and opportunities and markets, and to pivot to meet those gaps and opportunities, said Berkowitz. "This is a lens that not everybody has and one that we work with our participants to develop. It is among the first things that we want to do."