At 22 years old, Shibani Hansda lives in Brajarajpur village with her husband Pradip, their two young sons, and Pradip's parents. Because they got married without Pradip's parents' approval, Shibani's in-laws used to abuse her sometimes, making her life extremely difficult.

Shibani's family lived in extreme poverty and vulnerability. It was not unusual for the family to skip meals at night in the lean seasons of April-May and August-September. They owned two small goats, but no land, and could not find enough work to afford food year-round. Shibani and Pradip traveled to Bardwan, the nearest city, three to four times a year to find agricultural wage labor, earning around INR 12,000-14,000 ($180-$210) a year. When they weren't migrating, they only found 30-35 days of work as wage laborers in their village, while Shibani's mother-in-law could find work for around 15-20 days a year. Her father-in-law is sick and can't participate in wage labor, adding to the vulnerability of the family's situation.
Before joining Trickle Up's programs, their only option during emergencies was to borrow high-interest loans from moneylenders and they had no savings of any kind.

After being selected to participate in Trickle Up's Graduation project in her village, Shibani joined the Mahul Danga Marangburu Mahila Samilty Self-Help Group. Our partner staff at Jamgoria Sevabrata, a community-based NGO, helped her develop a livelihood plan. She opted for low-risk and short duration crops in the winter season, such as bitter gourd, ridge gourd, and pumpkin, as these vegetables have very low water requirements. Initially, she invested INR 5,000 ($75) of her seed capital to lease land and INR 4,000 ($60) on seeds and other agricultural inputs. After her farm's initial success, she invested the profits she made from her vegetable cultivation to purchase four goats, diversifying her livelihood activities. Eventually, she was able to invest INR 2,000 ($30) in building a goat shed.
In her third year with the program, she began cultivating tomatoes in the winter season, which involve more investment and risk. However, she saw good returns and earned INR 5,000 ($75) during the winter season from the tomatoes alone. In the last year, she also made a profit of INR 4,500 ($68) from rainy season crops and INR 10,000 ($150) from selling two castrated male goats. With the money she has saved in the self-help group, she built a bigger goat shed, grew her goat-rearing business, and continued vegetable cultivation on leased land.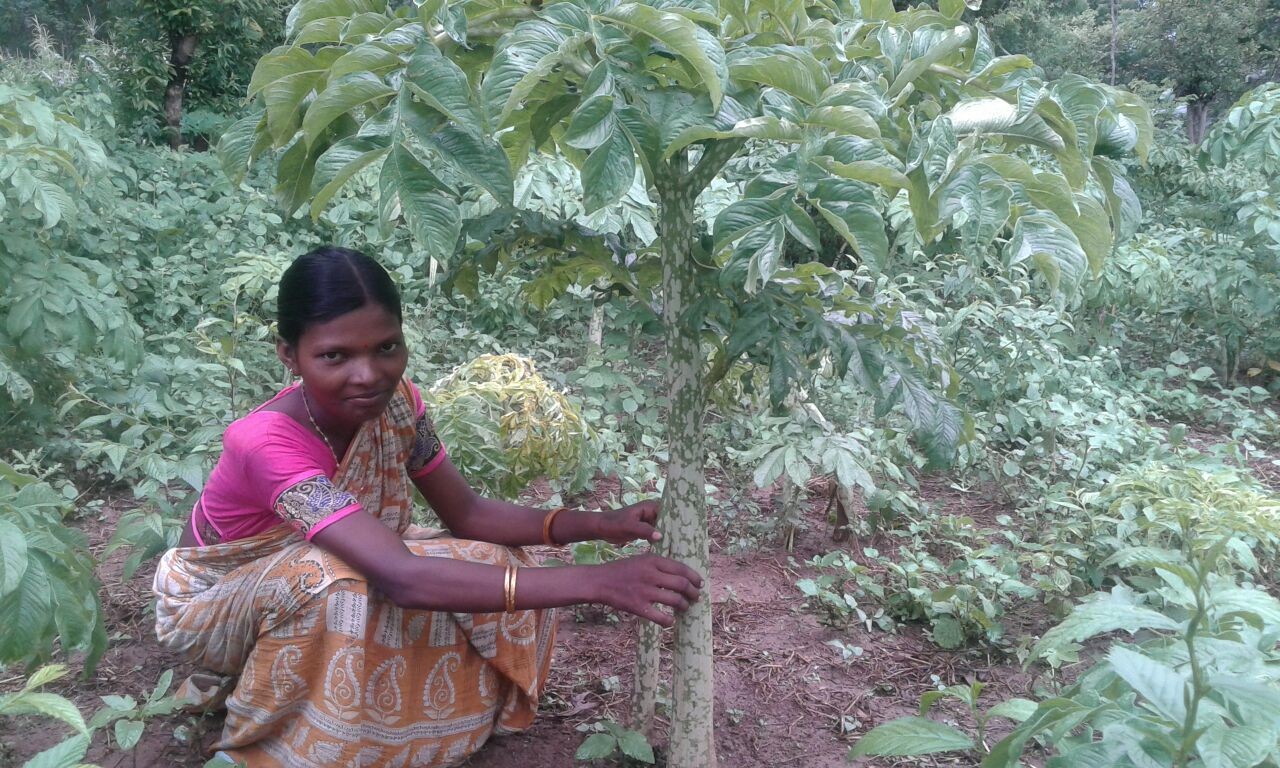 In total, she earned INR 42,000 ($630) over three years, saved INR 3220 ($48) in her self-help group, and owned 6 adult goats and 8 kid goats, which have an estimated value of INR 32,000 ($480).

By the end of the program, Shibani and Pradip no longer needed to travel to Bardwan to find work. Pradip assisted in all of Shibani's agricultural activities, but sometimes continued to engage in wage-earning labor in the local area to earn extra cash. He worked 50 days through the government's Mahatma Gandhi National Rural Employment Guarantee Scheme (MGNREGA), a program to provide income-earning opportunities for India's poor. Extremely poor families like the Hansdas qualify for programs like MGNREGA but typically lack knowledge of or access to their entitlements. Trickle Up helps participants connect to social services as part of our training and coaching components, in this case helping Pradip earn additional income for their family.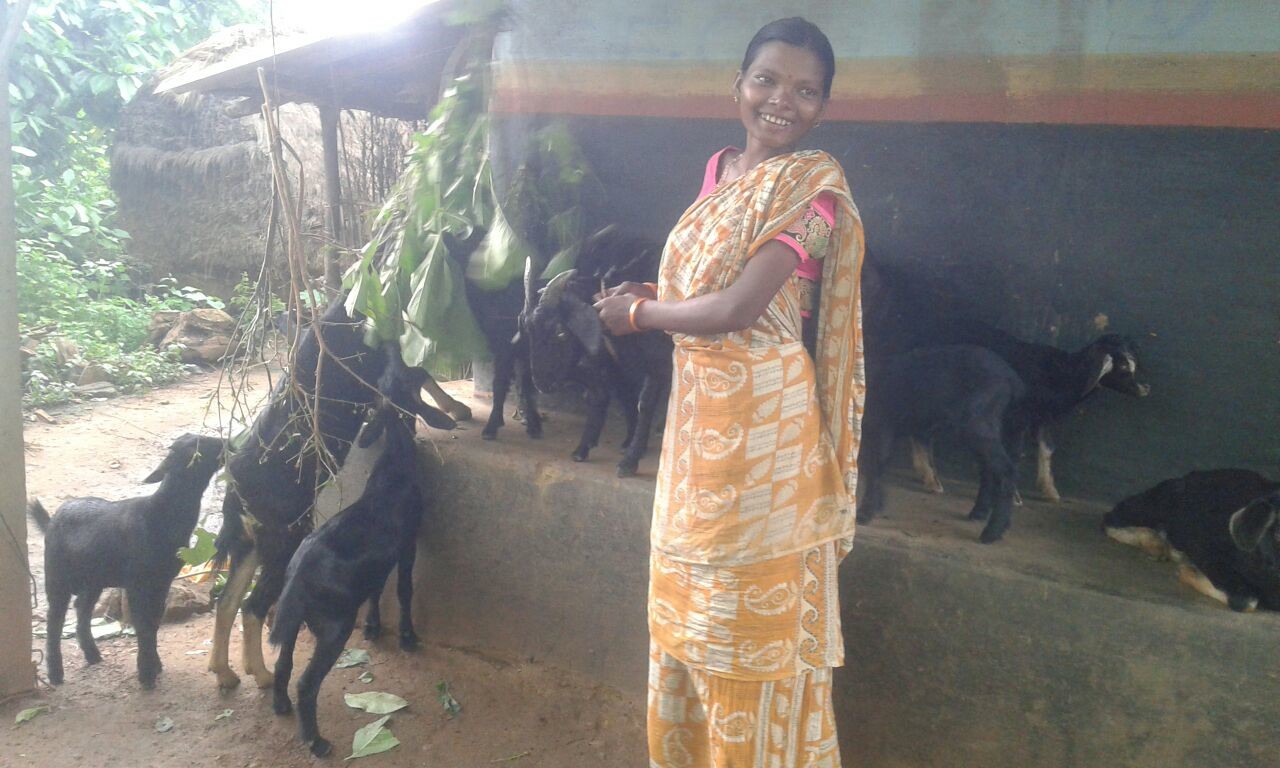 Today, a year and 4 months after completing the Trickle Up program, Shibani is even more successful.
With the increased income from her initial investments, she repaired her house, purchased land for INR 25,000 ($375) for her vegetable cultivation, bought a water pump for irrigation, and built a bigger goat shed to house the 25 goats she currently owns (valued at $675 or more). She and her husband both work in these agricultural activities and there is no need to migrate for work. They are continuing to cultivate vegetables; right now her fields are full of taro, which she expects to yield INR 13,000 ($195), making a large profit on her INR 3,500 ($53) investment in the crop. She just harvested a tomato crop that will yield her INR 8000-9000 ($120-135), and she will grow vegetables in the coming winter as well.
Shibani is an active member of her savings group, which has continued to save and disburse loans despite the end of the Trickle Up program. Shibani has saved INR 10,000 ($150) of her earnings in her own bank account. She reports that everyone in her savings group has seen positive changes as a result of the program. They are more confident in making decisions about their agricultural activities and attend local government (Panchayat) meetings. Everyone in the savings group has increased their savings by around INR 4,000 ($60) each, which has allowed the savings group to increase the size and frequency of loans to its members.
With her savings and growing businesses, Shibani is able to take proper care of her son's health and nutrition. Shibani emphasizes that being a part of this program has improved more than just her financial well-being.
"I have become self-reliant and my in-laws have also understood that and they are treating me better now," Shibani says.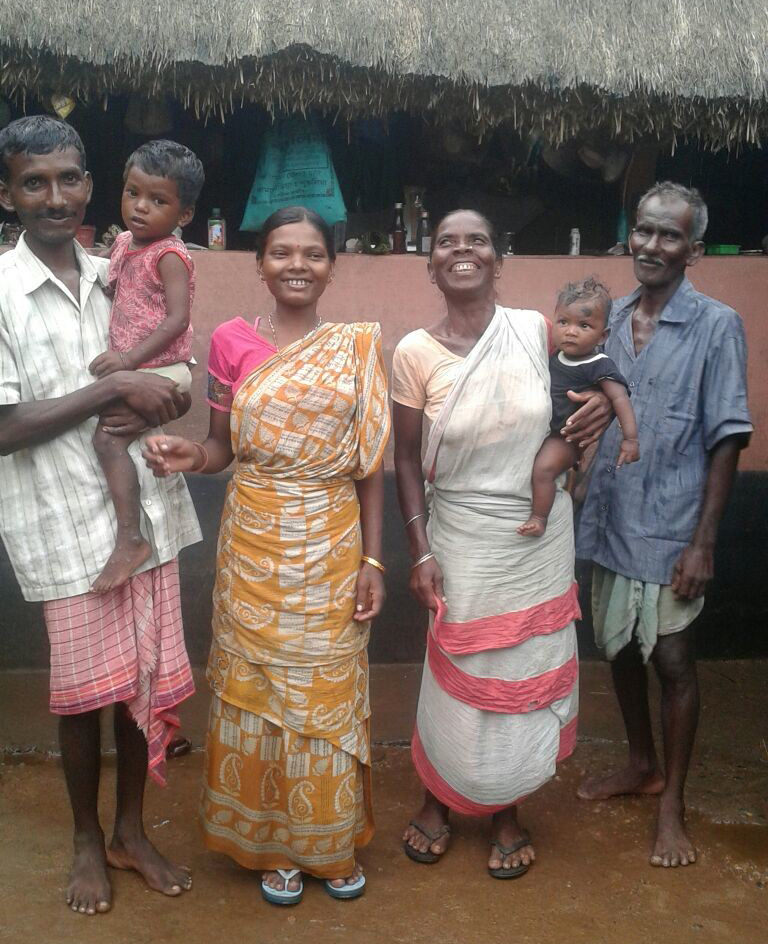 Rutilia Xol Chub of Santa Cruz el Nacimiento, Guatemala
Creative businesswoman, resilient entrepreneur, determined leader