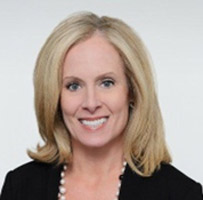 Managing Director, J.P. Morgan Asset Management
Elizabeth Forget joined Trickle Up as a board member in 2018.
Elizabeth joined J.P. Morgan in 2018 as Chief Transformation Officer for the U.S. Funds business. She is responsible for working holistically across the organization on initiatives to improve client engagement and satisfaction and position the firm for future growth.
Elizabeth joined J.P. Morgan with 25 years of experience in intermediary distribution and investment product management; spending the last 18 years in senior leadership roles at MetLife across retirement and asset management, wealth management and global relationship management. Prior to joining MetLife, Elizabeth held roles at AXA Financial, Bankers Trust and First Chicago.
Elizabeth earned her Master of Management degree (MBA) from the J.L. Kellogg Graduate School of Management at Northwestern University and her Bachelor of Science degree from Boston College. She is also an advisory board member of the Kellogg Finance Network.
< Back to Board & Advisors page