By Rodolfo Asig & María Caal, Municipal Field Technicians, Chahal, Guatemala
Rosario Ayu Tiul is a 59-year-old woman with a hearing impairment. She is a single mother and her 26-year-old son Marcos suffers from verbal communication problems that her family believes is attributable to mild autism. They live with Santos, Rosario's 87-years-old mother.
The three of them live in a house with a roof made of manaca (palm leaves) and wooden walls that they built on land owned by Rosario's brother, who helped them so that they could live comfortably. To reach the nearest town, Xalaja Chivitz, they must walk for an hour and a half in swampy jungle terrain, crossing three rivers and several makeshift bridges.
Before joining the project, Rosario, Marcos, and Grandmother Santos lived in precarious conditions. They lived off of scarce maize harvests, making money cultivating corn and chili. In other seasons, they harvested bananas, cassava, sweet potato, taro, and sugar cane for consumption within the home. Every morning, Rosario and her son would work on the crops they harvested for consumption. In some instances, Marcos would also work on his uncle's land and earned a small amount of cash, which the family used to buy food.
In addition to her hearing impairment, Rosario cannot speak and was therefore unable to teach Marcos how to speak, which is reflected in his language difficulties. Marcos relies heavily on his grandmother to help him improve his interpersonal communication and language skills. Grandmother Santos also helps Rosario take care of the household and has taught both her daughter and grandson how to raise chickens and grow more nutritious crops for improved consumption.
As part of the Desde El Poder Local project, Rosario received training on community savings, the development of sustainable livelihoods, and the implementation of productive activities. As a result of an agreement between Trickle Up and the municipality of Chahal to support people with disabilities who live in extreme poverty, Rosario received a seed capital grant of Q.1,000 (USD$130 ) to start a chicken breeding venture and joined a savings group.
Initially, it was difficult for Rosario to figure out the dynamics of the savings group. Due to her hearing impairment, she could not participate in the same way as the other members of the group. The group also struggled to understand the gestures Rosario used in order to communicate. However, over time, and with the support of the technical field staff, the group learned to communicate with her through an improvised sign language. This helped Rosario feel empowered within her group and excited to learn about the dynamics of saving, credit, and investment, which in turn encouraged the group to get to know Rosario better.
With support from the technical field staff, and Grandmother Santos, Rosario and Marcos have been able to implement well-coordinated planning and logistics for the production and distribution of poultry. Grandmother Santos taught them to classify the poultry into categories and specific quantities for better breeding, helping Rosario develop a mini-farm organized by areas and sections for the laying, fattening, and breeding of birds. Each bird receives a special follow-up treatment for its development.
Rosario's birds are now known in the community and she makes sales off of special orders and commissions of turkeys and chickens. Their birds initially produced eggs for family consumption only, but given growth of the inventory, they decided to start selling eggs to nearby families, which is generating additional income.
The family has improved their diet and are now more likely to have a financial income and buy clothing and medicines, which were previously difficult to obtain. They also could not save before and only had the opportunity to reserve a little corn and chili harvest. Now, they can consume poultry meat, produce eggs for consumption, and also generate income to buy other types of food.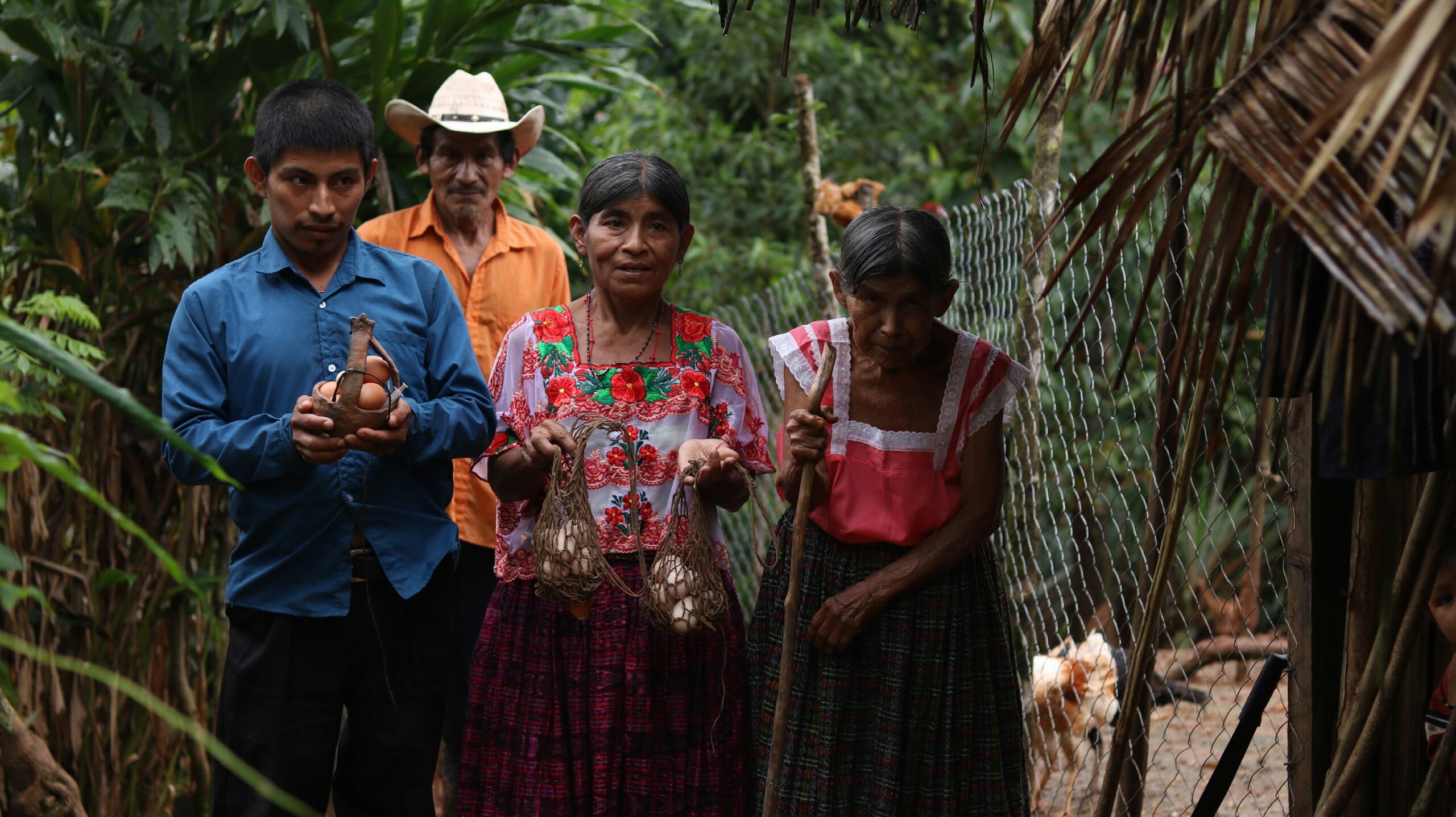 Although the first cycle of savings and participation in the group was difficult for Rosario, she worked hard and was able to use the savings and interest generated to support her household expenses. She was also able to increase her working capital and assets and, with the profits obtained from her first poultry production, she has decided to expand her house and change the palm roof for one made out of zinc sheets to better shelter her family from the rains.
The creativity of Grandmother Santos and the optimism of Rosario and Marcos to expand the business led them to create new ways of packing and marketing eggs for sale, which they pack in nets of 5 to 10 eggs that they sell to their neighbors.
"We have seen the results of seed capital support and I am very grateful that my daughter was selected to participate in the project," says Grandmother Santos. "She has achieved good results and her dedication and effort have helped improve her and her son's livelihoods."
Photos: Juan Carlos Villatoro and Miriam Tej
Special thanks to Rolando Ayu (local guide)