The enigmatic Saranda Forest in Jharkhand is home to about 7,000 tribal households, residing in 56 villages and hamlets. Chhota Nagra, situated 105 kilometers from the district headquarter of Chaibasa, is one of those villages and houses over 1,300 people, most of them belonging to the Ho tribe.
In 2016, Trickle Up and TATA Communications started working in Chhota Nagra to bring digital innovation into sustainable livelihood solutions for the ultra-poor communities living in this village. Through the MPOWERED project, women in the village were handed over smartphones with a pre-installed livelihoods application. This application served as a pocket coach on agricultural and livestock best practices that helped participants women gain access to information that can boost the productivity and profitability of their livelihoods, connect them to government social programs, and overcome barriers of geographic isolation and illiteracy. Some participants used their smartphones to set up small businesses by coordinating with suppliers and customers and added to their efforts towards building a better life for themselves and their families.
However, when the Covid-19 pandemic resulted in a nationwide lockdown in March 2020, most of the MPOWERED participants' lives came to a standstill as economic activities came to a halt throughout India. For the ultra-poor communities residing in the remote forest areas of Saranda, survival became the biggest challenge.
However, the state government of Jharkhand and the Jharkhand State Livelihood Promotion Society (JSLPS) were quick to ensure that the poorest had access to food during the lockdown. In addition to providing a monthly ration of 5 kilograms of wheat and rice for free for three months to every household, the government is also running a community kitchen by the name of 'Didi's Kitchen'. The objective is to distribute hot cooked meals free of cost to the villagers during the lockdown period under the 'Dal-Bhat' community kitchen program that provides free cooked meals during the lockdown.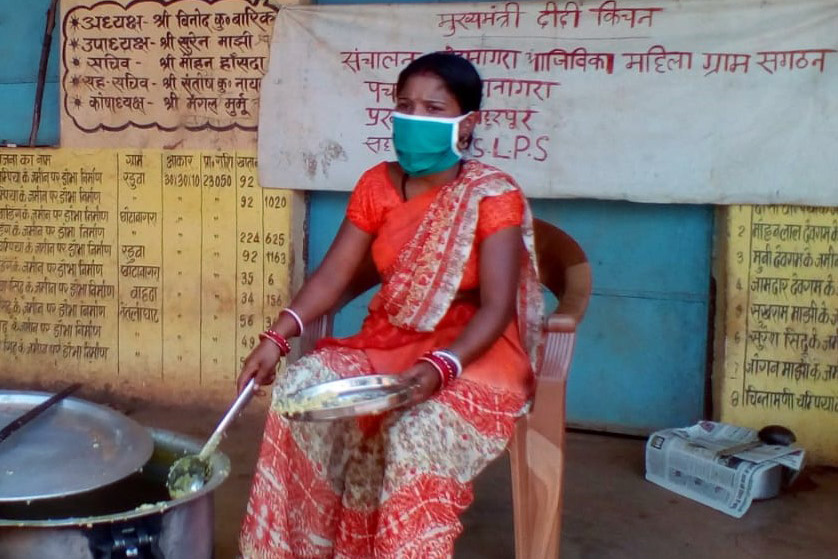 During this time, MPOWERED participants have shown exemplary leadership and compassion for the community and have come forward to help their fellow villagers. Not only have they been active in spreading awareness on how to prevent Covid-19 infections and how to practice physical distancing and maintain healthy hygienic habits, they have also been selected by the Jharkhand Government as leaders in the movement against the pandemic.
Mungli Lohar, a digital coach locally called a Smart Sakhi, and Gurbari Lohar, an MPOWERED participant have been regularly cooking a healthy meals of khichdi—lentils and rice—and nutritious vegetables to be served from 'Didi's Kitchen'. They have also been actively involved in the distribution of the food from the kitchen as well as the rations received from the government. In doing so, they are maintaining hygiene and following all Covid-19 protocols and prevention rules.
In such distressing times, with no economic activities, the entire morale of the village has been down. However, with the efforts of MPOWERED participants, field staff, Block Management Mission Unit, and JSLPS, the villagers have seen a light at the end of the tunnel—the hope that they will not just survive this crisis, but emerge resilient.