Sushant Verma joined Trickle Up in 2018 as the Regional Director for the Asia office based in Kolkata, India. He has over twenty years of intensive experience in managing social development programs, particularly in rural development sector, within areas such as education, public health, livelihood promotion, community development, disaster management, relief and rehabilitation, corporate social responsibility and women's empowerment.
Prior to joining Trickle Up, Sushant served at senior management levels in reputed Multilateral/bilateral, international and national humanitarian and funding agencies including British Council, The Open University UK, USAID, World Bank, Nobel Peace Laureate KS Children's Foundation, Christian Children's Fund Inc, Heifer International, Action Aid/Commonwealth Education Fund UK, and PHRN along with exposure to rigorous grassroots level interventions. He has independently handled large scale programs in education, public health, rural and urban community development, conducted monitoring and evaluation of developmental projects as well as several country programs for government and internationally funded initiatives.
Sushant is proficient in overseeing program design, planning and operations, partnerships, training, monitoring and evaluation, impact assessment, organizational development and human resources, and resource mobilization. He has been awarded various National and International awards for his outstanding contribution in the field of community initiatives, especially focused on youth and rural development.
A motivator and leader, Sushant is a reputed International trainer/facilitator and have been facilitating highly effective and life transforming workshops on Leadership Development, Organizational Development, Team Building, Attitudinal Change and Motivation all around the world. He is a nominee of MHRD, Government of India for Joint Review Mission Teacher Education. He is also in the board/advisor of many reputed not-for-profit organizations.
Sushant holds a MBA (Rural Development) with specialization in Women and Child development. He also possess a master's degree in Sustainable Development and certificate in International Perspective in Participatory Monitoring and Evaluation. Additionally, he has also undertaken various management courses from international universities like Oxford University. Presently he is pursuing a master's degree in Education Leadership from the Open University UK.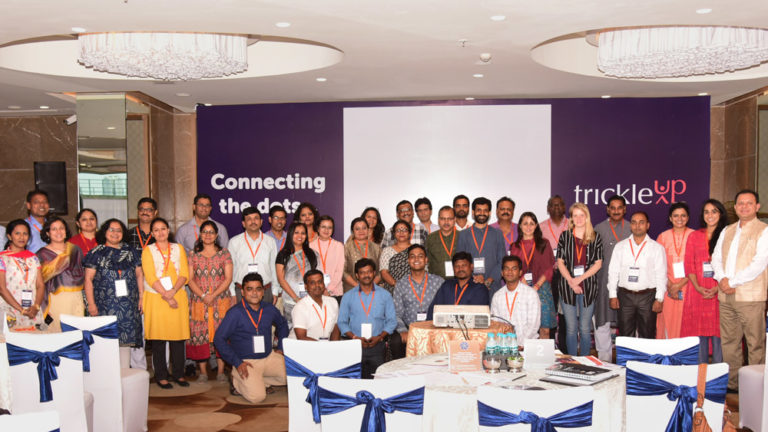 Jul 31, 2019
Trickle Up's India team organized a national seminar on the Graduation Approach that brought together senior development professionals and prominent organizations working in Indi ...